Installing Windows#
The following instructions will guide you step-by-step to install Windows on your computer.
Create a Rufus USB#
To install Windows, we'll use Rufus, along with a an 8GB+ USB drive. Rufus is a tool for writing Windows installation (ISO) files to a USB drive, and allows for bypassing hardware and MS account requirements.
Important
Before following the below steps, ensure that you have a Windows 22H2 ISO ready. You can safely download one here, or here for Windows 10.
Download Rufus. You can either get the portable version, or the installer.

Open Rufus, then click SELECT and choose the ISO you downloaded before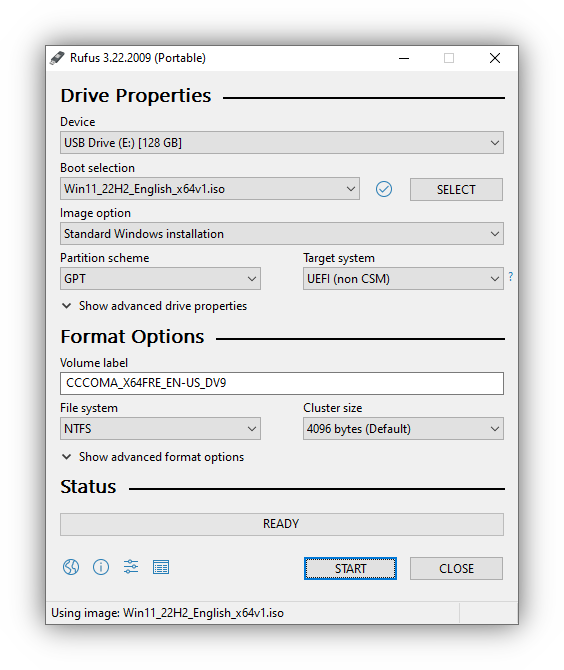 If you are running an older computer, ensure that you have the correct Target system. To find said value, see this resource. If your BIOS is UEFI, Partition scheme should be set to GPT, otherwise, MBR.

Ensure the proper USB drive is selected, then select START and answer OK to both prompts. Rufus will now write the ISO to your USB.

Eject your USB drive
Setup Windows#
With your target machine at the ready, follow the below steps to setup and deploy Windows 22H2.
Boot from the USB drive you created earlier (guide)

Follow the onscreen prompts, and choose Custom: Install Windows only (advanced) when prompted

Delete all partititions you see there, then select Unallocated Space → Next

Once Windows has finished installing, go through the Out of Box experience (OOBE) until you reach the desktop.